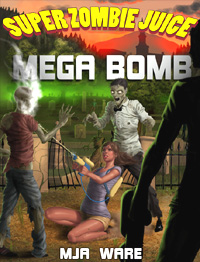 Super Zombie Juice Mega Bomb
Finally, a zombie novel that's safe for tweens & teens!
After a failed attempt at running away, best friends Nathan and Misty return home expecting to face angry parents. Instead, they discover the military has destroyed the bridges out of their rural town and everyone's fled—except a small horde of the living dead. The stress of flesh-eating zombies may be more than their already strained relationship can handle.

Even with the help of the town geek and lemonade-powered Super-Soakers, there's not enough time to squeeze their way out of this sticky mess. Unless the trio eradicates the zombie infestation, while avoiding the deadly zombie snot, the military will blow the town, and them, to pulp.

Download he entire book free Here:
Mobi format for Kindle
Epub format for Apple and other eReaders
This ebook is my gift to you. Please do not make copies.
If you know someone who'd like a copy, please send them to this page to download their own free copy.
Buy it in print from Amazon for just $8.98
Available wherever quality books are sold:
Amazon
Barns & Noble
SmashWords
Apple eBoostore
The Reviews are in and Super Zombie Juice Mega Bomb is a must read:
"I love this Book, this was the best book I have ever read." 5-Stars-- A Kids Review, iBook Reviews

"Awesome book. Great for Tweens who dislike reading. This will really hook them!!!" 5-Stars-- Archer L.

"I couldn't stop turning the pages as I watched Nathan and Misty try to make their way out of a zombie-infested small town. ...more than just zombie-whacking action--not that zombie-whacking is in short supply." -- Laura Lond, author of My Sparkling Misfortune.

"I could not put this book down. I really hate reading, but this book I could read 1000 times..." 5-Stars --A kid review from Campermaniac

"The entire book is a joy to read, and it's hard to put down, too!" 5-Stars --JJ, Amazon Vine Top 500 Reviewer

"Super Zombie Juice Mega Bomb is a quick, fun read filled with humour and zombie slaying action that I'm sure all ages will enjoy." --Ken, Paperless Reading Blog

"SUPER ZOMBIE JUICE MEGA BOMB was a fun, fast pace, unique read that I look forward to reading more from the author and MUST have a sequel. I would sell a blue smurf for a sequel to this book." 5-Stars --Gothical Book Reviews

"The adventure was suspenseful and page turning, mixed with a great deal of humor. It was like reading a book about my sixteen-year-old daughter!" --Jennifer, Goodreads Reviewer

"This book was the perfect blend of 'B movie' humor and the zombie gore I love... I loved this book!" 5-Stars --Angela Fristoe, Author of Songbird

"The humor is what really caught my attention when I started reading SZJMB, and the action kept me engaged to the end. ...it should engage even the most reluctant of readers." --Manga Maniac Cafe

"I read it all in one day. Very rare that I say I couldn't put the book down. I did not sleep until I finished reading it. I'd recommend this book to anyone (above 10 years of age) even if you're not into zombies." 5-Stars --David Santos, author of The Hopeless Christiantic